Fencescape Fencing Gladstone
Fencescape Fencing Gladstone are your number one North East Queensland fence builders. We are based in Gladstone, Queensland but service all surrounding areas from Yeppoon to Bundaberg and Emerald to Biloela as well as everywhere in between including Curtis Island, Rockhampton and Mount Larcom.
Gladstone Fence Builders and More
We supply and install all types of fences, gates and retaining walls incl Acoustic Barriers, Security Fences, Dog Fences and Feature Fences to Gladstone and the greater area.
Fencescape Fencing Gladstone provide you with friendly professional service to meet your fencing, retaining wall and gate needs.
We are one of the quality fully licensed branches of the successful fence building Franchise, Fencescape Fencing. We build all types of fences including:
Timber Fences
PVC Fences
Colorbond Fences
Chain Wire Fences
Pool Fences
Aluminium Fences
Dog Wire Fences
Rural post and rail Fences
Picket Fences
Glass Fences
Privacy Fences
Neighbour friendly fences
Acoustic Barriers
Feature Fences
Commercial Fences
We also build quality retaining walls meeting government building standards and to your requirements every time.
Rural Acreage Fences
A chain wire fence is one of the preferred choices for large acreage lots (also referred to by a number of other names such as wire netting, wire-mesh fence, chain link fencing, cyclone fence or diamond-mesh fence) is a type of woven fence which is usually made from galvanized steel wire. The fence can also include a green or black coloured PVC coating.
The wires run vertically but are bent into a zig-zag pattern. This forms the diamond pattern seen in this type of fence. Rural fencing materials should be chosen first for the purpose they are most appropriate for and secondly for strength,
Chainwire Characteristics
There are three characteristics to be aware of when choosing a chainwire fence. These characteristics include the: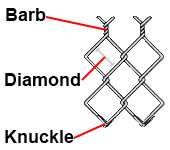 Diamond size – the size of the link holes. The standard diamond sizes have a pitch of 60 and 50 but the diamond size can range from a pitch of 25 to a pitch of 100.
Top and bottom (selvedge) of the fence – Can either be knuckle or barbed on either end depending on the application of use.
Thickness of the wire – The wire comes in light or heavy thicknesses. Heavy thickness is used for a higher level of durability.
Why Choose Chainwire Fencing
Security – Chain wire serves as an excellent security fence. Preventing unwanted animals and people from entering or exiting. Visit our gallery of chain wire fences
Low Maintenance – Is highly durable and can withstand rugged conditions.
Extensibility – Extensions can be added to the fence whilst maintaining existing style and type.
Highly flexible – Chain wire fences can easily be fitted around existing building fixtures.
PVC coated – As well as chain wire being galvanised, it is also available with a black or green coating to blend with the environment.
Are you building on a Small Block? Then you need a Privacy Fence
With the trend to build on small blocks with larger homes it can be a challenge to keep a level of privacy as your neighbours are so much closer. We have many options available for privacy fencing from Acoustic Barriers, especially if you are close to a road, or our classic 1800 high PVC fence or timber and Colorbond options. We can build to any specifications just give us a call.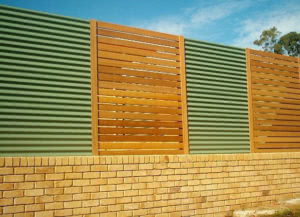 We are your number One Gladstone Fencing Contractors.
Call us to discuss your fencing requirements, no project is too big or too small.