Timber, Glass pool and Colorbond fences
Dale and the team at Fencescape Fencing Moreton have been busy at it again with a number of fences built around the Moreton region. There are a variety of different types of fences spanning from Caboolture to Morayfield to Beerburrum, Queensland.
This treated timber fence was built for a new housing estate backing onto main road and was constructed as a way to help prevent noise. The fence consists of 2.5 metre high timber and 150×100 treated hardwood posts. The fence is 160m long and there are no gates. The fence was built in Beerburrum.
Boundary fence for privacy and security
This fence was built in Caboolture. The owner wanted a privacy fence to stop the neighbours dogs from seeing her and barking all the time but didnt want a standard colorbond or timber fence as it would not suit the rural style of the area.
The posts are constructed from 100x75mm Treated Hardwood. The Colorbond is corrugated providing the privacy and 2 hardwood top rails to add to the rustic look they were after.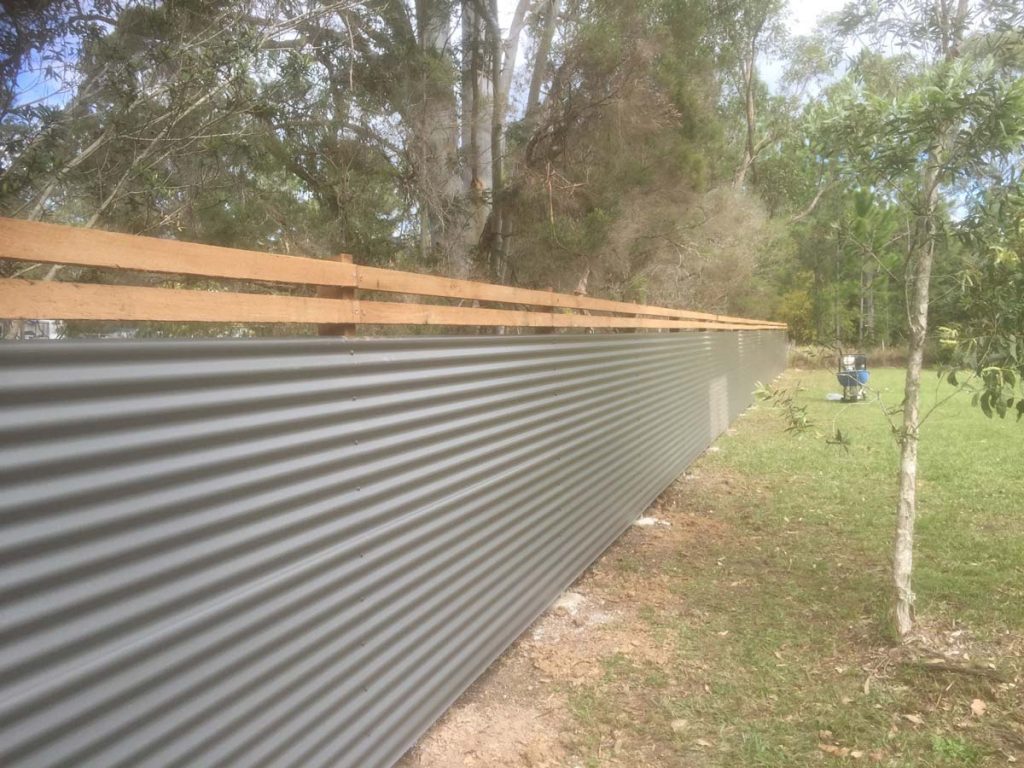 Semi Frameless Glass and Aluminium Pool Panels
This is an aluminium fence with self closing hinges and key lockable latch. The new pool was installed and required pool fencing, semiframeless glass across the front and aluminium down 1 side to help reduce costs. This pool fence was built in Morayfield Brisbane.
A great effort by the team who were able to supply and install this fence in only one day to help reduce the labour costs.
2m High Lapped and Capped Timber Fence
This is a boundary fence which is used for privacy, security and most importantly noise control from the main road. It was installed at a house in Caboolture. This fence was also supplied and installed in just one day to help reduce the labour costs.
Caboolture Colorbond
This 1800mm high Colorbond backyard fence combines with a 1200mm Colorbond step down fence in the front yard. The owner has got a new puppy and wanted to keep the dog in, extra privacy was also achieved by the 1800mm high fence, we stepped the fence down to 1200mm closer to the road to help the neighbour to see over the fence when reversing out of the drive way.
The home owner removed the old chainwire fence over the weekend, the fencescape team then supplied and install approx. 40m of 1800mm and 1200mm Colorbond fence in the one day using rapid set concrete. The home owner left in the morning with no fence and returned in the afternoon to a brand new beautiful Colorbond fence. Before and after photos show the massive improvement and privacy gained.
Timber paling and retaining wall – Caboolture
This is a 1800mm butted and capped treated pine and hardwood timber fence on top of retaining wall.
It is a boundary fence for privacy and security for a new housing development and is used to protect from falls as the drop is high. There were no gates needed for this fence.
This custom 1800 butted and capped fence is built on top of retaining wall from 200mm to 2000mm high. Steel fins were already installed on site and we bolted the posts to them. The capping design changed a few times because of the requirements from each party involved. With a bit of back and forth with architect, developer and contractor we were able to come to a great conclusion in the end.
Purchase your fencing supplies online now and pick up later at our Sunshine Coast Warehouse
Our Happy Clients
Contact Fencescape Fencing
We promise to get back to you within 24 hours of your initial enquiry.