Fencing at Bremer State High School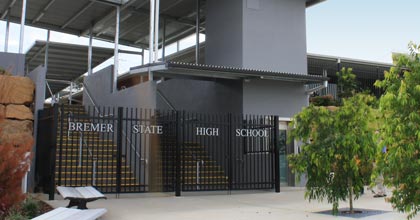 Fencing Project Value: $750 000
Contracted by:

Bremer State High School is located just South of Ipswich
at 133-153 Warwick Road Churchill QLD 4305
Bremer State High School Fenceing Gallery
Fencescape Fencing recently built all of the new fences at Bremer State High School.
Have a look through the fencing images below. Click an image to view the larger Bremer State Highschool photo gallery.
Bremer Fencing
Do you need to build a fence in Bremer or any surrounding areas of Ipswich? Fencescape builds all types of fences, gates and retaining walls in these areas. Contact Fencescape Fencing today for more information.