Chainwire Fencing at Mount Miller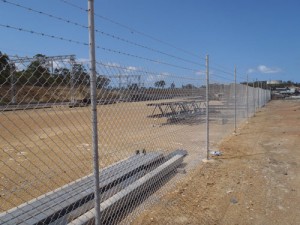 More fencing for the Queensland rail network.
After the successful fencing project for Queensland Rail throughout Brisbane, Fencescape Fencing continues north to Mount Miller in Gladstone Queensland to build a fence for QR National.A large Chainwire Fence has been repaired at the Mount Miller Container Terminal. The fence is chainwire and has three rows of barbed wire at the top. The Fencescape Gladstone division was in charge of this fencing Project.
Gladstone Fencing
Do you need to build a fence in Gladstone or any other surrounding areas? Fencescape Gladstone builds all types of fences, gates and retaining walls in these areas.
Contact Fencescape Fencing Gladstone today.
Fence Built By:
Fencescape Fencing Gladstone
Location:
Mount Miller Gladstone